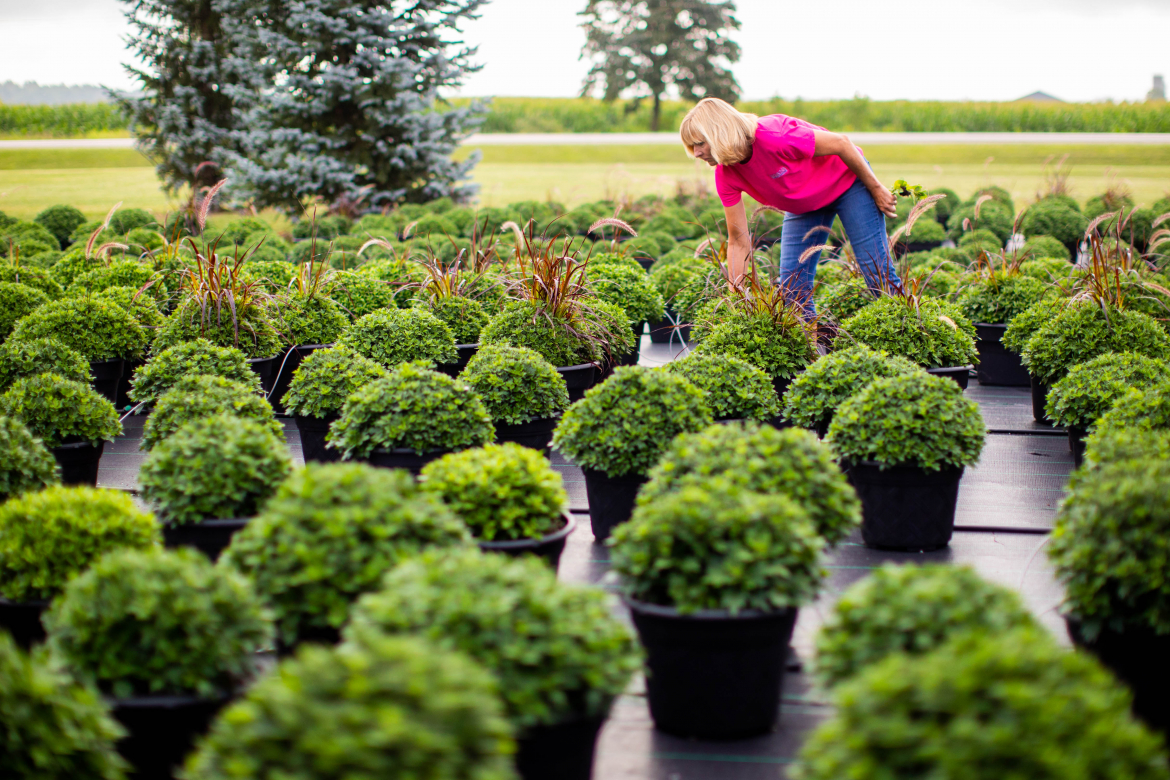 There is nothing more welcoming than a hand-crafted, beautifully watered and flourishing garden. Filled with brightly coloured petals, elaborately sprouted leaves, and delicate floral scents, those that simply plant and bring to life a vibrant array of flora possess a true talent with their green thumb.
The long awaited sunshine has finally arrived after a grueling and fierce winter, and we cannot wait to get outdoors and freshen up the landscaping around our homes.  
Living in Middlesex County, there's always a sense of rural charm no matter where you are located, but if you're just beginning the creation of your outdoor masterpiece, or unsure whether gardening is for you… here is some encourage-mint on why it is something to consider!
Daily dose of the 'Sunshine Vitamin' – exposing yourself to half an hour of sunshine (30 minutes) allows your body to produce vitamin D, a vitamin needed for over hundreds of different bodily functions.
It's a great form of exercise – whether you are raking leaves, weeding and trimming, cutting grass, etc., you'll be sure to break a sweat.
It plants a smile! – studies have shown gardening improves your mood and increases overall self-esteem!
To spark the adventure for vibrant flora, begin or maintain your garden, and provide you with some inspiration, here's a few County gems that will supply you with everything you need to complete your outdoor oasis.
Firefield Landscape – Strathroy-Caradoc
Firefield Landscape is located in the heart of Strathroy, and provides customers with a one-stop shop for all things garden supplies. From garden décor and landscaping supplies, design & installment services, to a host of different plant life including house plants, flowers, and tropical plants, if you can't travel to the tropics this summer, bring the tropics to you instead!
Heeman's – Thames Centre
Heeman's sure has 'got a lot growin' for them' with 120,000 square feet of indoor and outdoor gardening adventure, you'll be sure to get your steps in for the day and your garden essentials all at once. This County gem gives us a serotonin boost with its vast selection of fruits and vegetables, sweet smelling florals, garden accessories, and more! Whether you're a frequent customer or visiting for the first time, alongside their friendly and insightful staff, Heeman's provides in-depth signage for gardening beginners and experts alike to give you the 411 on all plant life. Finish off your experience with a fresh quart of vibrant strawberries or an ice cream sundae to enjoy! 
Hosta Choice Gardens – Southwest Middlesex
Whether you're not sure where to start or don't have lots of time to dedicate towards maintaining your garden, Hosta plants are perfect for everyone. Ranging in colour, size, and scent, these shade-loving plants can be grown practically anywhere, grow back every year, and require very little maintenance! Hosta choice gardens is Canada's largest Hosta display garden, with over 1900 Hosta varieties for you to see. As Hosta's can drastically range in appearance and size as they mature, Hosta Choice Gardens has conveniently opened their retail location May 14th, 2022 for customers to shop and to ensure every Hosta goes to its rightful home.
Lucan Country Gardens – Lucan Biddulph
Lucan Country Gardens is every leisure lover's place to go. Located in Lucan Ontario, an area known for "its vibrant, peaceful atmosphere, with a serious commitment to a laid-back peace of life" (Team Forster, 2019), stop by this County gem and let your senses and gardens be filled with their selection of baskets, annuals, and planters. Additionally, as Lucan lies between Lake Erie and Lake Huron, Lucan Country Gardens operates on some remarkably fertile land, providing you with only the highest quality of vegetation and equipment. Looking for a change? This Garden Centre has a keen eye for landscape design, offering the best advice for your oasis, so that your garden dreams may come true.
Masfrankc's Garden Centre – North Middlesex 
Having an acre of greenhouse dedicate to annuals, fruits and vegetables and an exquisite selection of lush plants and shrubs, this family owned and operated garden Centre located in North Middlesex is one gem you won't want to skip out on. With their custom planting program, Masfrankc's has beautifully crafted many customized arrangements for businesses, towns, and special events, and supplies a variety of products that will assist you in cultivating your green thumb.
Thuss Greenhouses & Garden Centre – Adelaide Metcalfe
As the saying goes "remember that children, marriages, and flower gardens reflect the kind of care they get", Thuss Greenhouses and Garden Centre is a prime example of just that. With being in business for over 30 years, the Thuss and Bastiaansen family recognize the value of gardening as the heart of what brings people together. Among a flourishing selection of plants, herbs, and more, Thuss greenhouses is an expert when it comes to their annuals, and employs a knowledgeable staff available to answer all of your questions!
Sabbes Tree Farm – Newbury 
Located in Newbury, Sabbe's tree farm offers locally grown plants geared to grow in our zone! This family owned and operated tree farm provides one-on-one service to all customers, ensuring you get exactly what you need and have all the information necessary for success. Additionally, visit their Facebook for some excellent tips and advice on all kinds of flora, and how to take care or maintain your plant life.
John C. Young Design Ltd. – Middlesex Centre
John C. Young Design has been in the landscaping business for over 30 years, serving the surrounding area with a variety of different services including constructing custom, one-of-a-kind gardens, award winning pools and ponds, and welcoming outdoor dining and living areas. Located in Middlesex Centre, visit John C. Young Design if you are just beginning your gardening adventures and looking for expert advice, wanting to revitalize your outdoor oasis, or searching for that missing piece such as a watergarden or pond!
As the long weekend approaches, check out our Greenhouses & Nurseries section for more inspiration and great locations to explore!