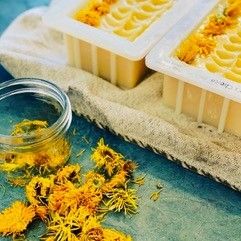 Address
3355 Lobelia Drive
Alvinston ON N0N 1A0
Canada
Learn the cold process soap making skill & create your own blend of natural skincare. Take home 8 bars to cut, cure and share with friends! 
You'll first meet outdoors to learn a quick introduction to the old-fashioned skill of cold process soap making! 
Next, you'll watch a live demonstration by the owner and experienced soap maker of Jireh Hills Soap Co. create a batch of soap.
You will then discuss & design your own personalized blend of soap using the natural herbs, essential oils, flowers and additives provided. You will received advice and guidance as you create your blend and prepare to make your first batch.
Next, using safety precautions and equipment provided, you will create and pour your own batch of soap.
Lastly, you will take home your freshly poured batch of soap with instructions on how to cut, cure and use your custom-created batch (approximately 8 bars of soap).
Cost - $125 per person (plus tax) 
Duration - 2 hours 
Minimum age - 14 years old 
Attire - wear a long sleeved shirt, closed toe shoes and bring a hair elastic (if have long hair) 
Bring an apron or wear old clothes! Safety glass and rubber gloves will be provided 
If you wish to add specific essentials oils to your soap blend, you may bring them!