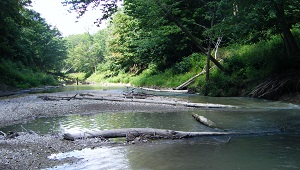 Address
Middlesex County ON
Canada
The Ausable River flows through much of Northwest Middlesex and is one of the most biologically diverse rivers in Canada. The river runs through a forested corridor with Carolinian species such as Black Maple, Eastern Flowering Dogwood, Chinquapin Oak, and Sycamore follows the winding valley for about 15 km.
The Ausable River has carved a dramatic and steep-sided gorge and valley near the village of Hungry Hallow, but due to its ruggedness and inaccessibility, the 19-km gorge and its picturesque waterfalls, is one of the largest river valleys remaining in a natural condition in the region.
There are sections of the Ausable River that are easy to access, allowing visitors a place to fish, canoe or hike along.